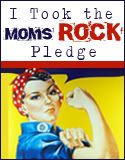 Take the Pledge
Moms Rock the Economy is a concept designed by moms for moms. The basic concept is simple: Moms support mom-owned businesses online. As Twitter grows as the best medium moms have found to connect with each other, Moms Rock the Economy's mission is to support and promote Mom-Owned businesses throughout the internet.Come take the pledge and join us in supporting moms over the internet!
The Pledge:
--I pledge to purchase from mom-owned businesses as often as possible in my daily life. Be it online or in person.
--I pledge to support my fellow mom in word and action when online.
--I pledge to be a mom that rocks the economy.
Moms Rock the Economy is a collaboration between Leah Segedie and Kelly Loubet. Leah Segedie is the Chief Mom of
Bookieboo
and
Mamavation
, and Kelly Loubet is the Designer of
Childhood Clothing
and Moderator of Bookieboo. It was designed to give moms a place they could go to persue discount shopping WHILE supporting mom-owned businesses. If you decide to take the pledge, please support other moms by tweeting out as well. Here is an example tweet: "I took the Moms Rock Pledge! Are you a Mom that Rocks the Economy too? http://www.momsrocktheeconomy.com, #momsrock"